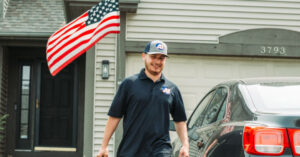 If your home has a central air conditioner, you're still probably familiar with ductless cooling systems. Perhaps a friend or relative owns one or maybe you've rented a place on Airbnb or been in a shop that had an air conditioner mounted on the wall.
This type of air conditioner is called a ductless mini split. It's actually a 2-in-1 system that not only provides cooling, but can heat a home as well. If you're considering AC installation and are curious about these systems, read on to learn the 5 benefits of ductless mini split systems.
#1. They provide both heating and cooling.
If you have a heating system that's older and that you know needs to be replaced soon, getting a mini split is essentially getting two systems for the price of one. That's because mini splits are heat pumps, too. Replacing two systems with one is advantageous for many potential buyers.
#2. They make everyone in your home comfortable.
It seems like just about every family has opposite views on what the thermostat should be set at. Some people run cooler or hotter than others in the same household which can lead to "thermostat wars."
Mini splits solve this problem via wall-mounted air handlers in each room of a home. It's possible for one person to set their bedroom at 76 and another person to set it at 68. Mini split systems have the potential to eliminate fights over the thermostat and make everyone happy.
#3. They're the eco-friendly option.
If you pride yourself on making "the green choice" that'll reduce your carbon footprint, a mini split is an incredibly eco-friendly air conditioner. That's because it uses about half the amount of electricity as central AC. You'll also potentially be using it less, choosing to only heat or cool one room at a time for many hours each day. This will also result in less usage.
#4. They'll save you money in the long run.
Although a mini split system is more expensive upfront, you'll enjoy continued savings for as long as you own the system due to how they use less energy. In fact, it's been estimated that mini splits can save homeowners up to 30% of their energy costs!
#5. They do some things better than central AC.
Does your central AC leave pockets of warm air in certain rooms of your home? Perhaps you've added on to your home since the central AC was installed and that area stays hot while the rest of the house is cool. With a mini split, you'll eliminate those "hot pockets" of air. You'll also be able to add one to spaces you haven't previously been able to.
Mini splits also dehumidify better than central AC. When there's less humidity in the air, you'll feel cooler at the same temperature. That means improved comfort at a cheaper cost to you.
Contact A-1 Mechanical Heating & Cooling for your next AC repair in Lansing, MI. Comfort and Character You Can Depend On!