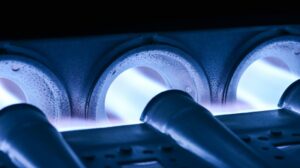 Natural gas furnaces are a popular heating system in the United States. About 47% of US homeowners use a natural gas furnace to heat their homes–that's almost half! Considering that gas furnaces are an efficient method of heating a home, it's no surprise that they're so popular for keeping homes comfortable and cozy.
Although gas furnaces are built with safety features to prevent gas leaks, no system is 100% safe. If you make up the 47% of homeowners using a natural gas furnace, it's important to be aware of things that could go wrong.
A rare issue but a potentially hazardous and lethal one is a cracked heat exchanger. If you own a gas furnace, you need to be aware of the signs of a cracked heat exchanger in your home. That way, you'll know to call us immediately for furnace repair.